The World Anti-Doping Agency (WADA) has officially removed cannabidiol (CBD) from their 2018 list of prohibited substances.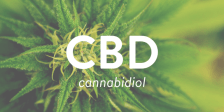 "Cannabidiol is no longer prohibited", states a WADA document titled Summary of Major Modifications and Explanatory Notes, 2018 Prohibited List. WADA is however banning synthetic cannabinoids such as K2 and spice.
"Synthetic cannabidiol is not a cannabimimetic; however, cannabidiol extracted from cannabis plants may also contain varying concentrations of THC, which remains a prohibited substance," the document notes.
Given that CBD is allowed but THC isn't, athletes hoping to use the substance without failing a drug test will need to make sure they use CBD derived from hemp, or CBD that has been entirely separated from any traceable level of THC.
WADA's threshold for THC is 150 nanograms per milliliter of blood.
The document listing this change, among others, can be found by clicking here.
Anthony, co-founder and Editor-in-Chief of TheJointBlog, has worked closely with numerous elected officials who support cannabis law reform, including as the former Campaign Manager for Washington State Representative Dave Upthegrove. He has also been published by multiple media outlets, including the Seattle Times. He can be reached at TheJointBlog@TheJointBlog.com.