Legislation to protect Washington State's legal marijuana industry from federal intrusion received a public hearing today in the state's House Finance Committee.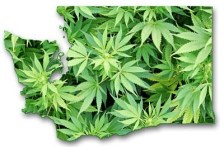 House Bill 2124 "Prohibits the use of public resources to assist the federal government in any activity that might impede or interfere with revenue to the operating budget pursuant to Washington state's regulation of marijuana and marijuana-related products as prescribed by the laws of the state of Washington." The measure "Provides that a public employee who knowingly violates this prohibition may be subject to disciplinary proceedings."
The measure, filed by Representative David Sawyer (D) along with a bipartisan coalition of six other lawmakers, received a public hearing today in its initial committee. Representative Sawyer spoke in favor of the bill, stating that although a large number of people signed up to speak and express their support, he asked them to withhold from doing so in order to respect the committee member's time. No one spoke in opposition to the measure.
The full text of House Bill 2124 can be found by clicking here. The bill "contains an emergency clause and takes effect immediately" upon passage.
Anthony, co-founder and Editor-in-Chief of TheJointBlog, has worked closely with numerous elected officials who support cannabis law reform, including as the former Campaign Manager for Washington State Representative Dave Upthegrove. He has also been published by multiple media outlets, including the Seattle Times. He can be reached at TheJointBlog@TheJointBlog.com.