By Jacob Mitchell
With over 300 million active users, Instagram has an account for almost anything. But today we are focusing on the top funny/best weed Instagram accounts out there. From funny weed memes, to dank shots of bud, paraphernalia, smoke tricks and beyond, go follow the accounts below (in no particular order, they are all just that great) so check 'em out and get your smoke on!
1) MassRoots– MassRoots, the social network for the cannabis industry, has a dope page filled with stunning photography of frosty nugs, dank plants and beautiful shatter. With about 416k followers, and their unfettered access to amazing grows and dispensaries, it is a must follow. Their app is awesome too, where you can interact with fellow stoners and post pictures of yourself smoking without worrying that your Grandma follows you. MassRoots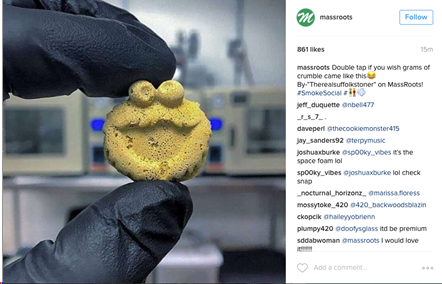 2) RolluhBowl– These guys invented the entire silicone bong market when they came out with their ingenious product, the Roll-uh-Bowl. They create original wacky memes & videos that are sure to entertain any stoner: from the Ganja Smoking Clown, to the Lego Men Building their "Sesh" to (my personal favorite) Hilary Clinton taking Rips at the Podium, their videos are hilarious. And the new 'Smoky Thoughts' posts from their bong mascot, Mr. Smoky Bubbles, are epic. Scroll through their page after ripping a few bingers. RolluhBowl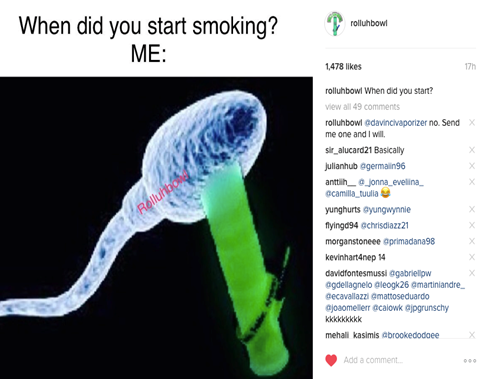 3) Weedhumor– This is the grandfather of all weed accounts. The content & videos these guys produce are funny and timely. At a whopping 1.8m followers, they post about 5 times a day, so there's always hella fresh and hilarious stoner comedy to provide a laugh when taking a smoke break at work or school. One of their top hits was the McDonald's bong made out of a cup and some Big Macs… Epic. Weedhumor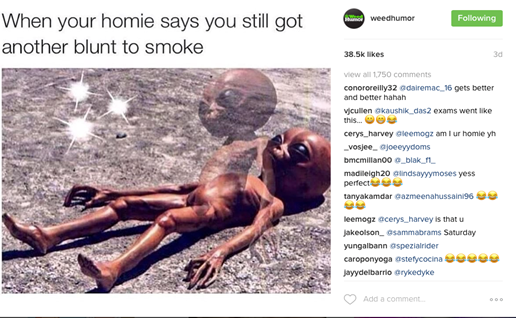 4) Lunggz2– The name says it all. This stoner has some mighty powerful 'lunggz' on him, and a hella high tolerance. Follow him as he smokes, drinks, and eats cannabis throughout his day. All day, everyday. And when he breaks out the Dab Rig, I dare you to try and keep up with him… Check it Lunggz2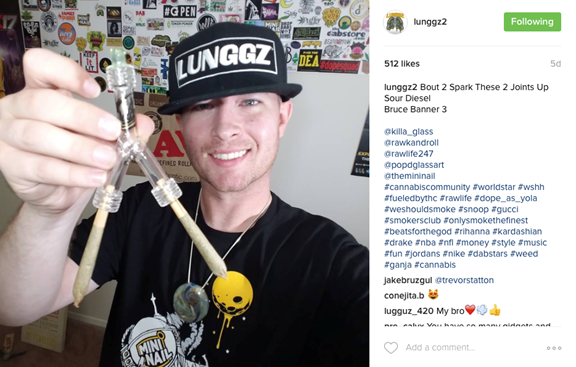 5) Canna.binsta — A really funny page with both hilarious memes and videos about the life of a Stoner. With about 1.1m followers, they post fresh cannabis content, most of which is their own, and always on point. These guys always provide a laugh and entertain. If you want to up your weed humor, this is a page is a must-follow. 100. Canna.binsta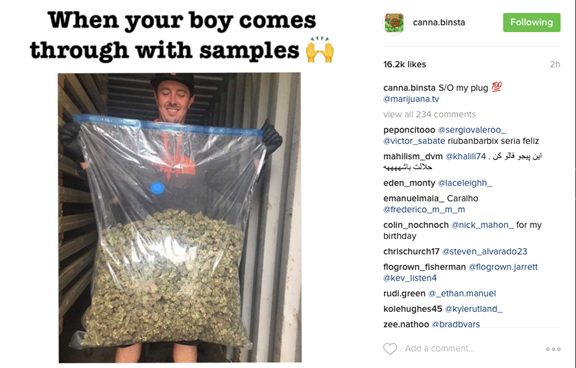 Anthony, co-founder and Editor-in-Chief of TheJointBlog, has worked closely with numerous elected officials who support cannabis law reform, including as the former Campaign Manager for Washington State Representative Dave Upthegrove. He has also been published by multiple media outlets, including the Seattle Times. He can be reached at TheJointBlog@TheJointBlog.com.