The Borah Basin Building, the first public-use building made from hemp in the U.S., is now officially open in Ketchum, Idaho.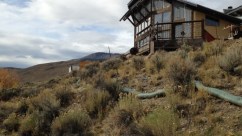 "I looked to natural materials to create more insulating, more efficient, and less energy intensive homes," 26-year-old Mattie Mead told Komo News. "And through that study Hempcrete stood out to me as above and beyond one of the greatest options for creating a building that is not just energy efficient but is also healthy."
Hempcrete, made from hemp, is an ideal building material as it's fire resistant, rot resistant, pest resistant, and mold resistant, all while being carbon-negative. "So in essence our building and our walls are carbon sinks – they take carbon dioxide out of the atmosphere. Whereas most other building products are carbon positive – they put out more carbon dioxide than they absorb," says Mead.
To build the house, Mead's company, Hempitecture, partnered with BaseCamp, a nonprofit located in Idaho.
"There's something that's remarkably inspiring about being 45 minutes from the nearest town and being able to be sheltered, warm, comfortable, have facilities to use, and to have a space to connect with themselves and the natural environment around them," says Mead, who says the building took three years to complete and was funded mostly through $27,000 garnered on Kickstarter.
"I cannot take sole credit for this building project because there were a lot of people who were so instrumental in the construction of this building. So to be a part of a community experience like that in Idaho was really special."
To learn more about the Borah Basin Building, click here.
Anthony, co-founder and Editor-in-Chief of TheJointBlog, has worked closely with numerous elected officials who support cannabis law reform, including as the former Campaign Manager for Washington State Representative Dave Upthegrove. He has also been published by multiple media outlets, including the Seattle Times. He can be reached at TheJointBlog@TheJointBlog.com.