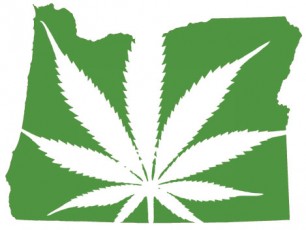 In 2014 Oregon voters gave approve to Measure 91. The initiative legalized the possession and licensed cultivation of up to an ounce of cannabis for those 21 and older, as well as the personal cultivation of up to six plants. A little over two years later and not only is there no sign of buyer's remorse, but a large chunk of those who opposed legalization now support it.
According to a new poll conducted by DHM Research, 66% of Oregonians support the state's law that finds cannabis to be a legal product; this is a 10% increase in support from 2014, when Measure 91 was approved with 56% of the vote. The survey found only 28% of Oregonians to have an "unfavorable" opinion of the new law. By comparison, only 17% have a positive view of the pharmaceutical industry.
Among millennials, support for legal cannabis is much higher at 88%.
Although the survey determine support for legalization, a large chunk of the poll focused on the banking industry.
"This is a new area of research" says Su Midghall, president and principal of DHM Research. "This survey shows that Oregonians support credit unions and smaller banks in general, and are in favor of these institutions doing business with the marijuana industry. Voters approved the sale of recreational marijuana, and, based on our research here and elsewhere, the public views the industry like other businesses. Oregonians don't see why banks can't help marijuana businesses, especially if it would improve public safety by removing their dependence on cash."
For nformation on the survey you can download the white paper by clicking here.
Below is an infograph released by DHM Research: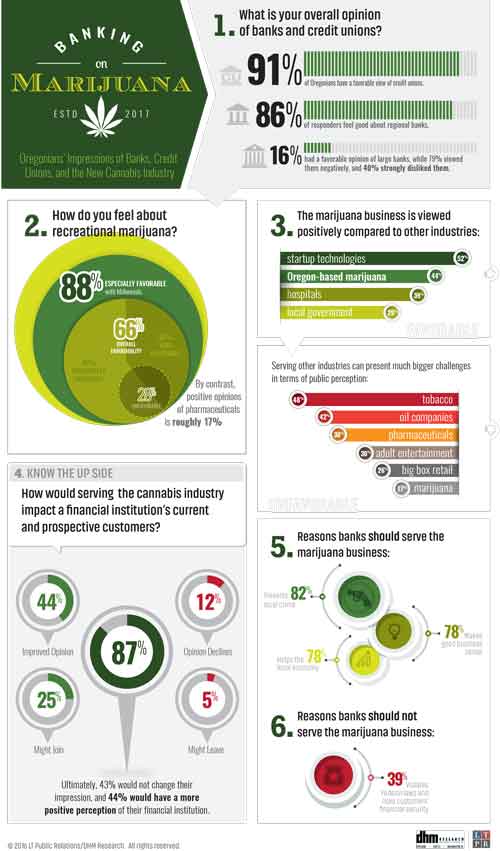 Anthony, co-founder and Editor-in-Chief of TheJointBlog, has worked closely with numerous elected officials who support cannabis law reform, including as the former Campaign Manager for Washington State Representative Dave Upthegrove. He has also been published by multiple media outlets, including the Seattle Times. He can be reached at TheJointBlog@TheJointBlog.com.