Effective today, the Colorado Department of Revenue (CDOR) released statewide historical sales data on marijuana sales from January 2014 to present, and will release monthly reports going forward on the seventh business day of every month.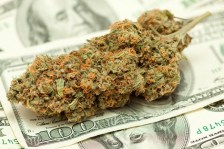 According to this data – dubbed the Marijuana Sales Report – there has been over $4 billion in marijuana and marijuana products sold since legal recreational sales began in 2014. The data shows that this year (up to the end of October) there has been $1,259,861,988 in marijuana sold, just shy of the $1,307,203,473 sold in 2016. In 2015, there was just shy of $1 billion sold ($995,591,255), and in 2014, the first year of legal sales, there was $683,523,739 sold. For comparison, there has been $2,951,855,447.08 in legal marijuana sold in Washington State, though sales there began in July of 2014, not January like Colorado.
According to the CDOR; "The Marijuana Sales Reports show unaudited monthly sales as self-reported by businesses on State sales returns and do not use Metrc® data (the Marijuana Enforcement Division's Marijuana Inventory Tracking System). The Marijuana Tax Data reports show tax revenue collected monthly as posted in the State's accounting system."
Below is a marijuana sales chart provided by the CDOR:
Anthony, co-founder and Editor-in-Chief of TheJointBlog, has worked closely with numerous elected officials who support cannabis law reform, including as the former Campaign Manager for Washington State Representative Dave Upthegrove. He has also been published by multiple media outlets, including the Seattle Times. He can be reached at TheJointBlog@TheJointBlog.com.