Cannabis consumption does not have a negative impact on male or female fertility, according to a new study.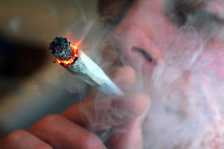 The study, titled Marijuana use and fecundability in a North American preconception cohort study, was published by the Journal of Epidemiology and Community Health, and published online by the U.S. National Institute of Health. It was conducted by researchers at Boston University's School of Public Health.
For the study, "Female participants completed a baseline questionnaire on which they reported lifestyle and behavioural factors, including frequency of marijuana use within the previous 2 months." Male partners "completed an optional baseline questionnaire on similar factors, including marijuana use. Women completed follow-up questionnaires every 8 weeks for 12 months or until pregnancy, initiation of fertility treatment or loss to follow-up, whichever came first."
After analyzing the data, researchers found that; "In this preconception cohort study, there was little overall association between female or male marijuana use and fecundability."
The full study can be found by clicking here.
Anthony, co-founder and Editor-in-Chief of TheJointBlog, has worked closely with numerous elected officials who support cannabis law reform, including as the former Campaign Manager for Washington State Representative Dave Upthegrove. He has also been published by multiple media outlets, including the Seattle Times. He can be reached at TheJointBlog@TheJointBlog.com.