A bill to legalize medical marijuana in Mexico has officially been passed into law, according to President Enrique Peña Nieto.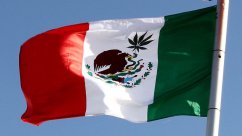 The new law directs the Ministry of Health to draft and implement regulations, with "public policies regulating the medicinal use of pharmacological derivatives of cannabis sativa, indica and Americana or marijuana, including tetrahydrocannabinol, its isomers and stereochemical variants, as well as how to regulate the research and national production of them."
The new law was passed by the nation's lower house of parliament in April with an overwhelming vote of 371 to 11. "The ruling eliminates the prohibition and criminalization of acts related to the medicinal use of marijuana and its scientific research, and those relating to the production and distribution of the plant for these purposes," the Lower House said in a statement on its website after its passage.
Mexico now joins just a small number of countries, including Canada, Uruguay and Portugal, that have legalized cannabis for medical purposes.
Anthony, co-founder and Editor-in-Chief of TheJointBlog, has worked closely with numerous elected officials who support cannabis law reform, including as the former Campaign Manager for Washington State Representative Dave Upthegrove. He has also been published by multiple media outlets, including the Seattle Times. He can be reached at TheJointBlog@TheJointBlog.com.