A bill to create a legal system to import marijuana seeds and grow the plant for medical uses has been approved by Paraguay's Congress.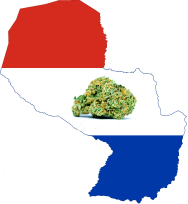 On Tuesday Paraguay's Congress overwhelmingly approved legislation to establish a system allowing marijuana seeds to be imported and grown for medical use. The voted comes roughly seven months after officials authorized the importing of marijuana oil, with oversight given to the nation's health ministry.
"We are very happy because this will also allow for the import of seeds for oil production," says Roberto Cabanas, vice president of Paraguay's medicinal cannabis organization. Cabanas daughter has Dravet syndrome which has required their family to pay hundreds of dollars each month to import cannabis oil.
In South America Peru, Chile, Argentina and Colombia have already legalized marijuana for medical purposes, while Uruguay has fully legalized growing and selling marijuana for any use.
Paraguay, the 9th most populated country in South America, has a population of around 6.7 million.
Anthony, co-founder and Editor-in-Chief of TheJointBlog, has worked closely with numerous elected officials who support cannabis law reform, including as the former Campaign Manager for Washington State Representative Dave Upthegrove. He has also been published by multiple media outlets, including the Seattle Times. He can be reached at TheJointBlog@TheJointBlog.com.