A constitutional amendment to legalize medical marijuana has been pre-filed in the New Mexico Senate.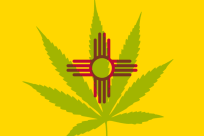 The legislation, filed by Senator Gerald Ortiz y Pino, would amend the New Mexico constitution by adding a new section that reads: "Possession and personal use of marijuana shall be lawful by persons twenty-one years of age or older only if the legislature provides by law for:
A. the production, processing, transportation, sale, taxation and acceptable quantities and places of use of marijuana to protect public health and safety; and
B. any state revenue generated from the taxation of marijuana to be distributed to the general fund."
Section 2 of Senate Joint Resolution 4 reads: "The amendment proposed by this resolution shall be submitted to the people for their approval or rejection at the next general election or at any special election prior to that date that may be called for that purpose."
In February, New Mexico's House Consumer and Public Affairs Committee voted 3 to 1 to advance a measure to legalize recreational cannabis. Unfortunately the bill failed to advance further in the legislative process.
Anthony, co-founder and Editor-in-Chief of TheJointBlog, has worked closely with numerous elected officials who support cannabis law reform, including as the former Campaign Manager for Washington State Representative Dave Upthegrove. He has also been published by multiple media outlets, including the Seattle Times. He can be reached at TheJointBlog@TheJointBlog.com.