As the burgeoning marijuana industry continues to gain momentum, marijuana stocks have become a huge point of discussion both for long-time investors, and for those new to the stock exchange.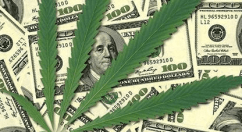 Given that the legal marijuana market is relatively immature, and much more unstable than other markets, it can be a challenge to know which marijuana stocks to consider; or even what marijuana stocks are out there. With that in Mind, MarijuanaStocks.com has created a comprehensive list of nearly 100 marijuana-related companies that are publicly traded.
This list is updated daily, giving you recent information on current stock values. Clicking on any of the stocks will bring up the company's information; this includes their address, contact information, website and a link to recent news headlines pertaining to the business. This is incredibly useful for those considering jumping into the marijuana stock market, or for those who are already involved but want a large list of marijuana stocks all on one page.
On this page – which can be found by clicking here – MarijuanaStocks.com states:
Following is a list of cannabis stocks who have made our radar at Marijuana Stocks at one time or another. This is not a comprehensive list and should be used only as a starting point for your own research. The following are not paid listings and are not recommendations to buy or sell any Marijuana Stocks listed here.
Currently the page includes 98 marijuana stocks, but is being updated regularly.
[Editor's Note: Although it reads like one, this is not a sponsored article; we simply feel the information is useful.]
Anthony, co-founder and Editor-in-Chief of TheJointBlog, has worked closely with numerous elected officials who support cannabis law reform, including as the former Campaign Manager for Washington State Representative Dave Upthegrove. He has also been published by multiple media outlets, including the Seattle Times. He can be reached at TheJointBlog@TheJointBlog.com.