Legal recreational marijuana sales begin in Nevada in just a month.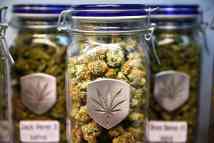 On July 1st, medical cannabis dispensaries in Nevada will be allowed to sale marijuana to everyone 21 and older. This is due to state officials recently passing rules that allow for an early start to recreational marijuana sales, which were legalized by voters last year.
Under the new rules, dispensaries will be authorized to sell up to an ounce of cannabis to those 21+, including tourists. Once the state's system of recreational cannabis retail outlets is up and operating sometime next year, dispensaries will go back to distributing the plant exclusively to patients who have received a physician recommendation and are registered with the state.
Nevada currently has 60 dispensaries throughout the state, according to data from the state's Department of Health.
Anthony, co-founder and Editor-in-Chief of TheJointBlog, has worked closely with numerous elected officials who support cannabis law reform, including as the former Campaign Manager for Washington State Representative Dave Upthegrove. He has also been published by multiple media outlets, including the Seattle Times. He can be reached at TheJointBlog@TheJointBlog.com.