Colorado's Fourth Corner Credit Union has been given permission by the Federal Reserve of Kansas City to provide financial services to marijuana-related businesses.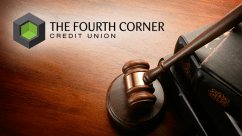 According to the Wall Street Journal, the Federal Reserve Bank of Kansas City granted conditional approval yesterday to Fourth Corner Credit Union to work with and provide financial services to marijuana-related businesses. The credit union's approval comes over three years after they launched in Colorado, and over two and a half years after they filed a lawsuit against the Federal Reserve for initially denying their request to service the marijuana industry.
According to the Wall Street Journal report, Fourth Corner will not provide serves to marijuana dispensaries, as they initially planned, but will "focus on individuals and companies that support legalized marijuana." This includes marijuana accountants, security companies and landlords, among others.
"I'm grateful that we've reached a settlement," Fourth Corner Executive Vice President Mark Goldfogel told Leafly yesterday. "I'm glad that we can move the ball forward for the industry. And with every decision like this, the industry gets closer to regulated banking."
Goldfogel says the Federal Reserve's decision "validates the importance of the cannabis legalization movement, and the movement's right to coalesce funds to solve this problem."
Anthony, co-founder and Editor-in-Chief of TheJointBlog, has worked closely with numerous elected officials who support cannabis law reform, including as the former Campaign Manager for Washington State Representative Dave Upthegrove. He has also been published by multiple media outlets, including the Seattle Times. He can be reached at TheJointBlog@TheJointBlog.com.