As Canada inches closer to legalization, the nation's Marijuana Index continues to rise at a rapid pace.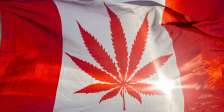 The Canadian Marijuana Stock Index has risen drastically over the past 30 days, going from 419.11 on December 4th, to 950.26 at the close of today's market (January 3rd). This represents an 126% increase in just one month, one of the largest single-month increases ever seen for the Canadian marijuana stock market. A stat that's equally impressive, however, is that the market has jumped roughly 365% in less than six months, going from 204.40 on July 10th, 2017, to 950.26 today. A little over a year prior, on March 28, 2016, the Canadian Marijuana Stock Index was at just 74.85; today's index represents an over 1,100% increase.
The Canadian Marijuana Index "tracks the leading cannabis stocks operating in Canada". Constituents must "have a business strategy focused on the marijuana or hemp industry", and are also "required to meet our minimum trading criteria. The Index is "equal-weighted and rebalanced quarterly".
The U.S. Marijuana Index has also seen a steady uptick in recent days, rising from 61.57 on December 6th, to 105.69 at the close of today's market; a 71.6% increase.
Anthony, co-founder and Editor-in-Chief of TheJointBlog, has worked closely with numerous elected officials who support cannabis law reform, including as the former Campaign Manager for Washington State Representative Dave Upthegrove. He has also been published by multiple media outlets, including the Seattle Times. He can be reached at TheJointBlog@TheJointBlog.com.